Top Pick in Mid-Price Range
Scooter Classification:
The Freerider is designated as a Class 2 pavement scooter, which means it has a top speed of 6 mph and may be driven on walkways but cannot be legally driven on roadways. It does not have to be registered or insured, and the operator does not have to be a licensed driver.

Product: Freerider City Ranger 6 Mobility Scooter
Length:

124 cm (49″)

Width: 61 cm (24″)
Height:

94 cm (37″)

Ground Clearance:

7.5cm (2.95″)

Total weight: 89kg (196 lbs)
Total weight excluding batteries: 55.8 kgs (123 lbs)
Battery: 2 x 36ah
Maximum Range: 28 miles
Maximum Speed:

6 mph

Maximum user weight: 22 stone (140 kgs)
Tyres: 4 x pneumatic tyres front 10″ and rear 12″
Ground clearance: 11.4 cm (4.5″)
Turning radius: 107 cm (42″)
Safe Climbing Angle: 8 degrees
Maximum Safe Slope: 6 degrees
Colours available: Metallic Red or Silver
The Freerider City Ranger 6 Mobility Scooter is a relatively new entry in the class 2 pavement scooters group, but it's quickly earning an outstanding reputation for top-of-the-line safety, comfort, power, and reliability.
It costs from £1,300 to £1,700, and it's our pick for best mid-price range pavement class mobility scooter.
The latest model from well-known and highly respected mobility scooter manufacturer Freerider, the City Ranger 6 is an upgraded version of the popular Freerider Mayfair 4S and the "little brother" of the roadway class 3 Freerider City Ranger 8.
It packs the power, comfort, and high-end safety features of a much larger and more costly scooter into a more compact, lighter weight, pavement class 2 vehicle. Its sleek design and well-considered feature pack make it a pleasure to drive, and its easy access and simple operating features make it appropriate for even new users.
The City Ranger 6 is specifically designed for use on sidewalks and pavements but it's a surprisingly capable all-rounder that can take you easily over uneven surfaces like grass or gravel, and it's maneuverable enough to be used indoors as well.
This is the ideal scooter for everything from everyday shopping trips to holiday outings with the family; it has the comfort you want and the power you need to make your journey safe and pleasant, all at a price that won't break the bank.
What makes this scooter different?
The Freerider City Ranger 6 delivers more than you would expect from a class 2 pavement scooter: more power, more capability, more safety features, and more comfort.
A maximum weight capacity of 300 pounds and a generous foot-well for plenty of legroom make it a good choice for taller or heavier users.
Pneumatic tyres and a full suspension guarantee a comfortable ride with minimum jolting and jarring.
A standard 28 mile maximum distance gives you more journey between charges, and an available upgrade to a larger 50 a/h battery pack will extend your ride per charge to a full 35 miles.
Four wheel drive and a deep, fully padded adjustable captain's seat work together to cushion bumps and ensure rider comfort.
An adjustable seat that swivels a full 360 degrees and has flip-up armrests makes access easy.
Features include a full lighting package with front and rear lights and indicators for safe travel even after dark, a soft start function, and variable speed control.
42″ width, stable four-wheel design, and generous 4.5″ ground clearance make driving on uneven surfaces like grass or gravel safe and comfortable.
A maximum speed of 6 mph can give you an extra boost when you need it.
The Freerider City Ranger 6 comes with a chrome front bumper and is available in either metallic red or gleaming silver finish.
What this scooter does best
The Freerider City Ranger 6 goes above and beyond what you might expect from a class 2 pavement scooter. It's ideal for everyday journeys, with the style and comfort you want for shopping, visiting, or social events, and it also has plenty of power and stability for holiday outings and other events that may take you into uneven or unpaved areas.
It's excellent for average size operators, but can also accommodate larger drivers; it comes with many luxury features standard, and it's even available in a choice of colors. Overall it's an outstanding choice for those who want more from a pavement class scooter but don't need everything a class 3 roadway scooter offers.
One of its most important features is its ability to accommodate heavier, taller, or generally larger riders, who sometimes find that mid-priced mobility vehicles aren't made to their specifications.
The City Ranger 6 also provides a longer distance between charges than many pavement scooters, making it possible to go further without worrying about changing batteries or finding a place to charge. This, along with it's generous 4.5″ ground clearance, full suspension and stable design make it an excellent companion on holiday outings at parks, grassy areas, or anywhere the surface is uneven.
What it doesn't do
Like all class 2 pavement scooters, the Freerider City Ranger 6 is designed for operation on sidewalks and pavements. Though it has a maximum speed of 6 mph it cannot be legally operated on roadways.
The Freerider City Ranger 6 is not designed to fold or disassemble for storage or portability and cannot be considered a portable scooter.
Compare Prices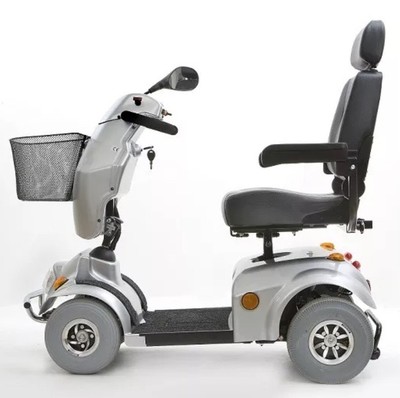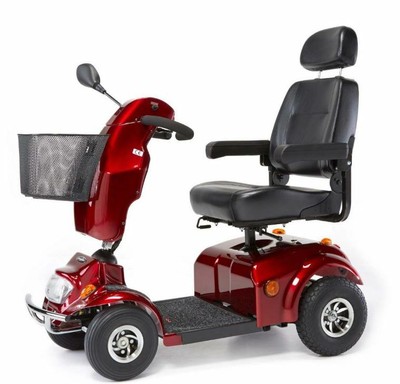 £2,495.00
in stock
as of September 19, 2021 1:35 am
Create Your Free Price Drop Alert!
Set Alert for Sheerlines Mobility Scooter Canopy - £379.00
Price History for Sheerlines Mobility Scooter Canopy
Statistics
| | | |
| --- | --- | --- |
| Current Price | £379.00 | September 21, 2021 |
| Highest Price | £379.00 | September 2, 2021 |
| Lowest Price | £379.00 | September 2, 2021 |
Since September 2, 2021
Last price changes
| | |
| --- | --- |
| £379.00 | September 2, 2021 |
All prices mentioned above are in British pound.
This product is available at eBay, Amazon.co.uk.
At ebay.co.uk you can purchase Sheerlines Mobility Scooter Canopy for only £379.00, which is 85% less than the cost in Amazon.co.uk (£2,495.00).
The lowest price of FreeRider City Ranger 6 Mobility Scooter was obtained on September 21, 2021 5:31 am.
The Bottom Line
The Freerider City Ranger 6 is a pavement class mobility scooter that feels, drives, and performs like much larger and more expensive class 3 roadway approved models. It does everything you'd expect from an excellent pavement scooter, plus more: it's equally good for everyday trips to the shops and for a long holiday outdoors, giving a smooth and comfortable ride over grassy areas as well as pavement. Its combination of features, power, capability, and sleek, stylish looks make this scooter a truly outstanding middle price range value.
Add your review
|
Read reviews and comments